Wine and Food Pairing
I've recently acquired "The Wine Dine Dictionary" by Victoria Moore. Winner of the Fortnum & Mason food and drink award when it was first published in 2018, it's been great for dipping into.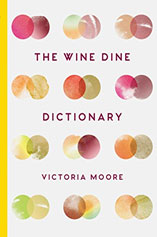 Arranged A-Z by food at one end and A-Z by wine at the other, it's been a great resource in helping the wine enthusiast and or foodie to be more informed and creative in matching food and bottles.
As an amuse-bouche, here are four popular wines from our range with some of Victoria Moore's recommendations for each:
Artesa Organic Rioja - "really good with both pork and lamb. Think pulled pork or meltingly soft, slow-cooked pork shoulder. Lamb could be a classic roast leg of lamb studded with rosemary and garlic or a slow-cooked joint. Rioja goes really well with the paprika-spice of chorizo, and you could also serve it with almost any dish in which chorizo is a strong flavour, for instance: cod with butter beans in a chorizo and tomato sauce; squid, chorizo and red pepper stew; or just chorizo sausages cooked in red wine and served with chunks of fresh bread. And yes, if you're wondering about the first two dishes on that list, this is a red wine with fish situation - the Spanish put Rioja with fish all the time"
Sileni Cellars Pinot Noir - "Pinot noir is so often a possible answer to the "what shall I drink with this?" question. It is very good with the earthy flavour of mushrooms - think garlic mushrooms on toast; mushroom risotto; monkfish with ceps and artichokes; macaroni cheese layered with mushrooms. Its juicy red berry flavours are brilliant with duck or go well with calves' liver and bacon, or with veal; or a lunch of cold meats and rillettes, or with tagliatelle mixed with ricotta, fresh mint leaves and slivers of fig."
Macon Peronne white burgundy - "Try with a buttery roast chicken; the crunch of chicken schnitzel; a chicken and avocado salad; or roast chicken with dauphinoise potatoes. Its texture matches creamy sauces and butter, while bringing an edge of freshness; so try it with fish pie; poached salmon with a pile of buttery new potatoes or hollandaise; fish with parsley sauce; spaghetti with tomato, green beans and a dash of cream; rabbit cooked with cream and bacon. It plays well with shellfish too: think prawns or lobster; and with pumpkin or squash: think of the silky texture of pumpkin ravioli scattered with grated cheese."
Fontanino Riesling - "Medium-dry riesling fell out of fashion in about 1983 but it deserves a comeback because the style is perfect with so much of the food we eat today. Riesling has a vibrant, limey tang which is great with Thai food: think spicy Thai basil chicken, spicy Thai noodles with peanut sauce, green mango salad with shrimp or chicken marinated in lemongrass, lime, Thai fish sauce, garlic and chilli and eaten with lettuce and rice. It's also a clever match with savoury dishes containing or served with fruit. A few examples: roast pork with sweet apple purée; chicken and apricot tagine; mango and chicken chilli noodles."