When Passion Meets Inspiration
The Germans have an expression for most things."Wenn Leidenschaft auf Inspiration trifft, entsteht eine Besessenheit" is one. In English: "When passion meets inspiration an obsession is born". Chris Davies, owner and winemaker at Windows Estate, is a man obsessed with the quest to make the best wines he possibly can.
One of the great things about taking the time to savour a glass of well-made wine is that what you hold in your hand is an encapsulation of twelve months. It is an expression of place, of four seasons and of vines responding to their environment. It is also an expression of Chris. For example, pour yourself a glass of Windows Estate Chardonnay, sit back and contemplate the obsession and thought contained within it.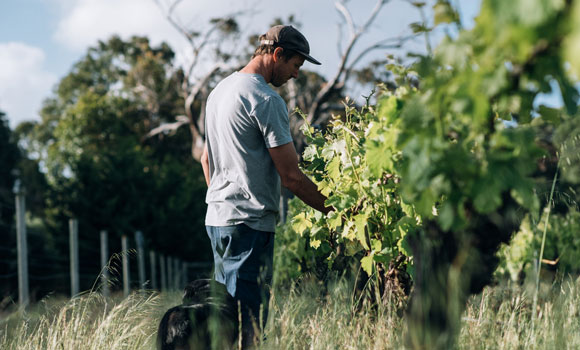 Four different clones of chardonnay vines (some in rows orientated north to south, others east to west), on different soil structures and at different altitudes, all carefully planned by Chris to give him the winemaking options he needs. Apart from the visiting team of hand pickers at harvest time, Chris is the only person working with the vines from one vintage to the next. Each vine is hand pruned by him to get the best from that particular plant and in such a way to get the best and healthiest fruit under the expected weather conditions for that particular season. This is detailed, painstaking plant husbandry and as you begin to anticipate that second glass, you will also be realising that Chris is exceptionally good at what he loves doing.
Whether he's given warmer drier summers like 2018, cooler autumn ripening seasons like 2016, or cloudier years like 2017 he is out in his six hectares of vines planning for shade against the sun, or maximising airflow around the grapes and sunlight on the bunches to minimise disease. All this so that year after year the wine he makes is of the highest possible quality from the best possible fruit. It really doesn't matter whether the "time capsule" in your glass is white or red, from a familiar or less well known grape variety, or from what year: you always know that the same passion, commitment and focus has been applied for your enjoyment.
It's why James Halliday has awarded Windows Estate a 5 star rating since 2013; why they've won the "Best small Cellar Door" award from "Gourmet Traveller" wine magazine no fewer than three times; and why James Suckling has described their wines as "quite simply, world class."
We'll be enjoying the fruits of his labour - literally and metaphorically - with some Windows Estate wine this Christmas. We invite you to do the same!